Part 6: Circulation and Fines Rules – How To Install and Set Up Koha For Schools
So far we have installed and configured Koha and catalogued the first media. The barcodes are printed and stick in the books. Actually, everything is waiting for us to finally be able to check out the books to our readers. One last step is still missing and that's what it's all about today: the circulation and fines rules. This will allow us to determine who can borrow which item and for how long. But we can also determine fines, renewals and much more in Koha before the first books leave the library.
This article is part of a series:
Connecting to a Z.39.50 / SRU Server
Notifications and Reminders
Overdue Notices and Fees
Define Circulation and Fines Rules
Create new rule
We find the settings for the circulation rules under Administration → Circulation and fines rules. Here we can define rules for all libraries or only for one specific library. At the moment we have only one library. Therefore it does not matter whether we define the rules directly for the school library or for all libraries in general.
By default, a rule is already created that applies to All.

First we should adapt this rule for "All" to our requirements. Then we can create additional rules for individual user groups, e.g. for students or parents. So we click on Edit and can then adjust all parameters:

Explanations
Patron category → For which patron category should the rule apply?
Item type → For which item type should the rule apply?
Current checkouts allowed → so many books may be checked out at the same time.
Current on-site checkouts allowed → This is about media that can only be checked out within the library.
Loan period → How long may a item be checked out?
Unit → Days or hours, usually days
Hard due date → makes sense e.g. for a teaching material library. Here we can enter the date of the end of the school year as the fixed due date. Otherwise leave empty.
Fine amount → The amount of the fee for our unit is determined here (i.e. in our case fees per day).
Fine charging interval → In which intervals should the charges be calculated? "For example, "1" means every day, "5" every five days.
When to charge → "End of Interval" means that the fees are calculated at the end of the interval. If, for example, I have entered "1" for Interval, the charges will be calculated after the 1st overdue day. However, if I select "Start of interval", charges will be due for each started interval.
Fine grace period → For how many days / hours after the due date should no fee be charged? "For example, "2" means that you can return the book within 2 days of the due date without having to pay a fee. However, this also depends on which setting you have selected for the system parameter FinesIncludeGracePeriod.
Overdue fines cap (amount) → How high should the maximum charges / item be?
Cap fine at replacement price → the maximum fee should not exceed the book replacement price
Suspension in days (day) → Alternative "fee" if you want to block users if they have overdue items
Max. suspension duration (day) → Maximum suspension (only possible with unit "days", not "hours")
Renewals allowed (count) → How often can a user renew his book?
Renewal period → For how many days / hours is an extension granted?
No renewal before → Here we can determine how many days / hours before the due date an renewal is possible. If the field remains empty, you can extend at any time.
Automatic renewal → Here we can decide whether item should be automatically renewed.
No automatic renewal after → After how many days should no automatic renewal take place?
No automatic renewal after (hard limit) → As above, only that we can enter a fixed date here.
Holds allowed (count) → How many holds are allowed?
Holds per record (count) → How many holds should be allowed per title / record?
On shelf holds allowed → Various settings for whether and how available titles can be reserved
Item level holds → see above, various settings for item holds.
Article requests → Various settings for whether and how articles can be ordered.
Rental discount (%) → If rental fees are levied on certain items, you can set a discount here.
After we have set everything to our liking, we also click Save.
Further settings
Further down, we can optionally make aditional settings, e.g. how many items may be loaned per patron category (if this has not already been done in the circulation and fines rules above).
Holidays
For the calculation of the due dates it is important that Koha knows when our library is closed, e.g. because it is holidays or just weekends. To do this, we open the calendar under More → Tools → Calendar and enter all days on which the school library has closed.
If, for example, we want to define weekends as closing days, we click on a Saturday and then select a closing day that repeats itself every week on that day. We also have to do this for Sunday.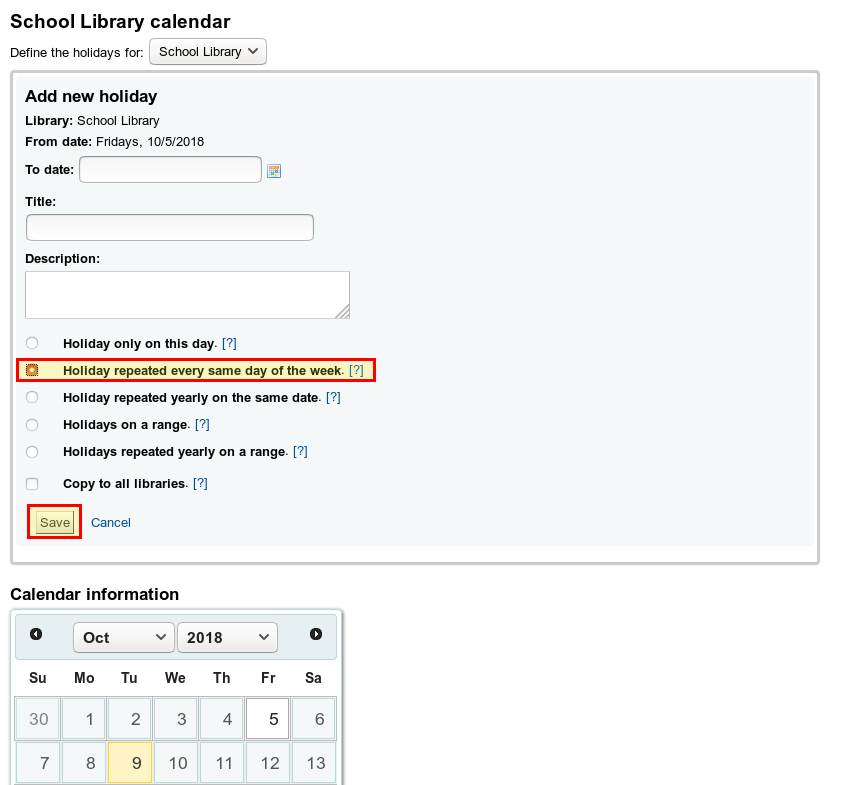 For holidays, we can also select a closing period and enter the start and end of the holidays at the top.
Finally, we need to determine whether Koha should consider closing days when calculating due dates or not. This is done via the useDaysMode system parameter. If we want to exclude closing days (which makes a lot of sense in a school library due to the holidays), we select the calendar to push the due date to the next open day.
Conclusion
We have now set up everything to checkout our books and other items to our users. Due dates are calculated correctly taking into account the days our library is closed. All other parts of this series are optional, but make working with Koha a lot easier. For example, we have already defined the fees in the circulation and fines rules, but they are not yet calculated. There are further steps necessary, which I will describe in a later article.
---
Looking for high quality Open Source Apps for your classroom?