4 Linux School Server Comparison
Every school is faced with the decision to choose a solution for its school server. Many manufacturers have discovered this market for themselves in recent years. In this comparison, I would like to compare 4 Linux school server – most of them from Germany. There are a few other international projects, but most of the open source school solutions come from Germany, Austria or Switzerland.
In this comparison, in addition to the properties and the range of functions, I will deal with installation and user friendliness. Another focus of this comparison is how easily the school server can be extended and adapted and what costs arise for a school.
linuxmuster. net
linuxmuster. net is a fork of the Linux version of paedML from LMZ Baden-Württemberg. After 2012 it was decided to hand over the further development to a company, the teachers involved in the development decided to maintain the schoolserver solution under the name linuxmuster. net as an open source project. The association linuxmuster.net e. V. is responsible for the development. The current version 6.2 is based on Ubuntu 12.04 LTS.
linuxmuster.net has the following features:
central DNS, DHCP server
Identity management and file server
intelligent school-specific user administration
Self-healing workstations with LINBO (Windows 7/10, Linux)
Management via web interface
Educational functions (classroom work mode, individual student access for WLAN and Intranet, exchange directories)
automatic and individual configuration and setup of computers in the network
many extensions (WLAN, learning management systems,…)
Connection of external services via LDAP
Support for subnetting (VLANs)
integrated print server
The basic system can be installed manually or via a provided XenServer appliance. linuxmuster.net is based on a standard Ubuntu server, uses IPFire as a firewall solution and LINBO (Linux Network Boot) for image management of the computers in the network. After installation you can manage linuxmuster.net via a web interface ("school console").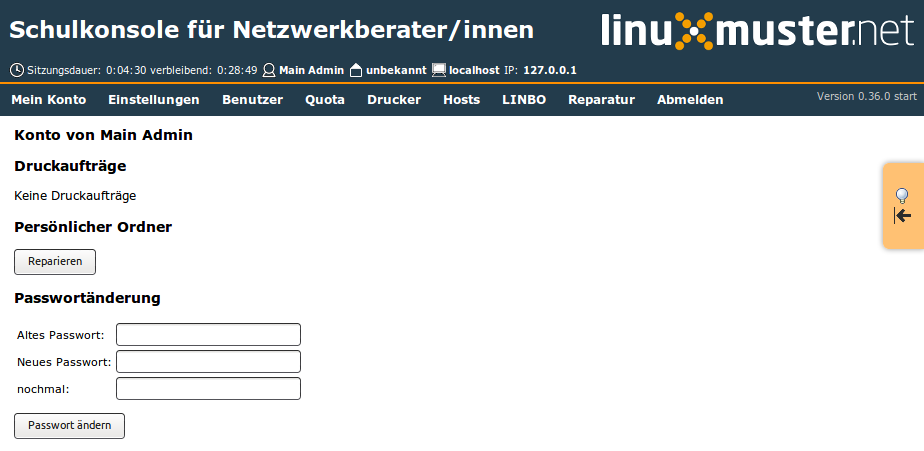 The project offers a pre-installed linux client (Ubuntu 16.04), which can be installed automatically and then distributed in the network. linuxmuster.net can be extended with different packages. There are packages for WLAN management, Opsi, Moodle, Monitoring and many more.
Setting up a complete environment with Linux clients is done in just a few steps. Even though most tasks can be handled with the help of the web interface, you have to execute commands at some places on the command line. Linux knowledge is therefore an advantage, although not absolutely necessary.
The documentation of linuxmuster.net is very detailed and apart from the official manuals there is an active community, which has gathered many use cases and useful extensions and instructions in the wiki. Telephone support is available free of charge every week on Tuesdays and on the project's support platform. The community is very active and questions are often answered within a few hours.
If you are not afraid of the command line, linuxmuster.net is an open, very flexible and adaptable sample solution that leaves (almost) nothing to be desired.
Pro
Central administration of users with school-specific functions (e. g. change of school year)
easy administration and customization of computers by LINBO
preconfigured Linux client (Ubuntu LTS)
very good and detailed documentation
very active and helpful community
no license costs
Contra
Basic operating system no longer up to date (but security updates are provided by the project repository)
not all tasks can be handled via the school console
Currently they are working on linuxmuster.net version 7, which has some new features (Samba 4, current Ubuntu LTS).
UCS@school
Univention Corporate Server @ school (UCS@school) is a software to operate and centrally manage identity management and IT infrastructures for several schools. It is based on the open source platform Univention Corporate Server, an enterprise Linux distribution with integrated identity management and IT management system.
Univention follows an Open Core model, i. e. you can freely download and install the basic server version. However, if you want to use UCS@school, a support contract is required.
UCS@school offers the following functions:
Automated import interface for managing user accounts
Interactive, graphical import module for user accounts
Cross-School User Accounts
single sign-on
App Center with over 90 integrated services
Active Directory Compatible Domain Services with Samba 4
Support for a variety of client operating systems such as Microsoft Windows, Linux and macOS
Integration of mobile devices into the school WLAN (RADIUS)
Computer room, Internet and WLAN control
Material distribution for distributing and collecting digital working materials
Class test mode for safe writing of digital class tests
Printer moderation for easy reduction of printing costs
Installation is very simple. The Univention Corporate Server is set up in just a few steps. You can select different services and roles to install and configure (DHCP, print server,…).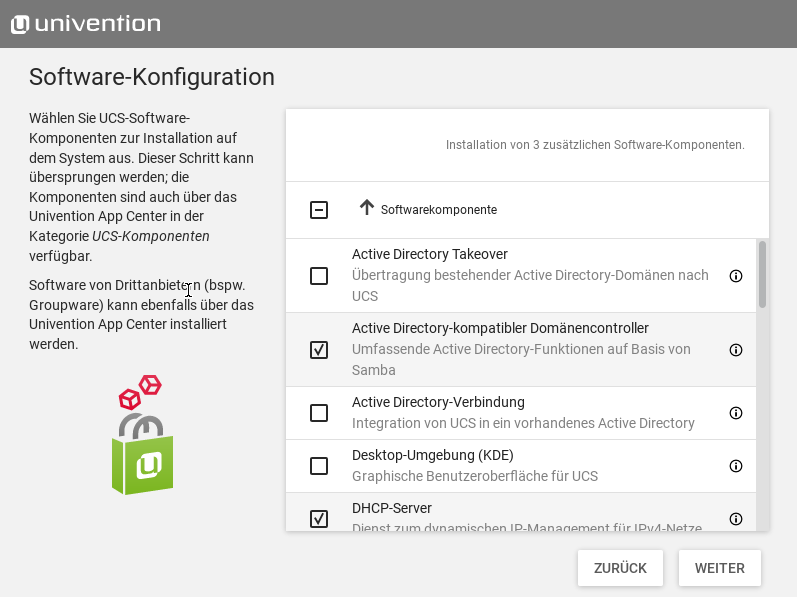 After installation you can access the web interface of the server from a computer in the network. In the web interface all functions can be managed, users can be added or new apps can be installed.
Univention also offers a ready-made standard Linux client based on Ubuntu. This client can be managed centrally and distributed in the network via PXE boot.
Unfortunately I could not test the pedagogical functions, because a valid support contract is necessary.
In contrast to linuxmuster.net, Debian Edu / Skolelinux and Arktur there are costs for licenses and support. For a school with up to 1000 students and 200 workstations (with Univention Linux-Client) approx. 3100€ license fee per year will be charged.
Pro
very simple installation
Administration via a clear and easy-to-use web interface
many extensions in the Univention App-Store
Centralized management of computers in the network (individual adaptations possible) for Univention Corporate Client (based on Ubuntu)
very good and detailed documentation
Contra
high support or license costs depending on school size
no tools for school year changes in user administration
Arktur
The c' t/ODS-Schulserver Arktur is a school server based on SUSE or Slackware, which was expressly developed for the use and support of inexperienced staff.
Arktur has been around for a long time as Linux school server. It requires little resources and therefore runs on older systems. Arktur currently exists in two versions. Version 5 is based on Slackware Linux, while version 4 is based on Suse Linux.
Arktur offers the following functions:
easy installation of bootable CD-ROM
One server or multi-server solution
completely pre-configured network
Unlock the Internet with a mouse click
Room by room "activation of the Internet with the browser possible
preconfigured child and youth protection (web filter)
Transfer of classes (school year change)
printer management
For all client systems Arktur offers a uniform user administration
intranet server
For installation, the project offers an ISO file that can be used to install the server. A text-based installation program helps you set up the server. After installation there is a menu and a web interface on the server. The web interface displays only some of the functions. For administration the text-based menu of the server should be used.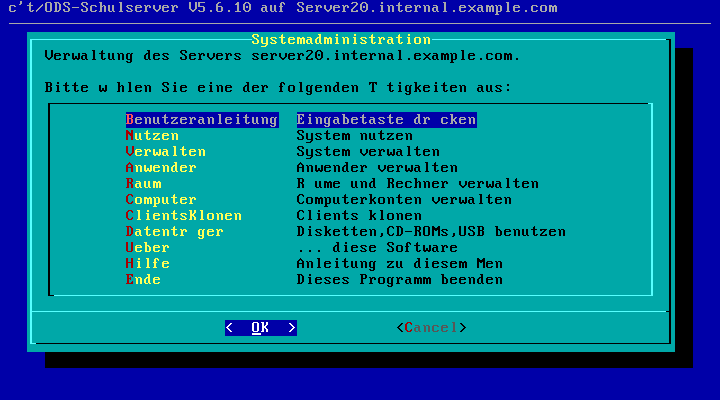 All in all, Artkur looks a bit "old school". The project seems to have fallen asleep a bit, because the mailing list is not very active, there are hardly any changes in the wiki and the last release was more than 2 years ago. There are also some unusual features, e. g. that no umlauts in the menus or first and last names are supported.
pro
Very low system requirements
good, albeit aged, documentation
no license costs
easy client management using hard disk images
Contra
hardly active community
last release was long ago
old school "- User Interface
Debian Edu / Skolelinux
DebianEdu is a specialized adaptation of the Linux distribution Debian for school needs. The meanwhile international project was founded in Norway (Skole = school) and provides all necessary configuration profiles to run a typical school network on a single installation CD-ROM. Even untrained users can install a communication server with LDAP user database, a terminal server, a workstation or a notebook as a single-user computer in just a few steps.
Debian Edu is another representative of an open and free school server solution for educational institutions. The project represents the association Teckids e. V. in Germany and is further developed by volunteer programmers worldwide, similar to linuxmuster.net.
Debian Edu / Skolelinux offers the following features:
simple installation
fully configured network
Stability and security
main server ready for immediate use
Fully configured terminal server
Completely configured clients/workstations
The installation can be done either with a graphical or text-based installer. In graphical mode I did not succeed in the installation. But the installation in text mode worked fine. During the installation you can decide which components / roles you want to install.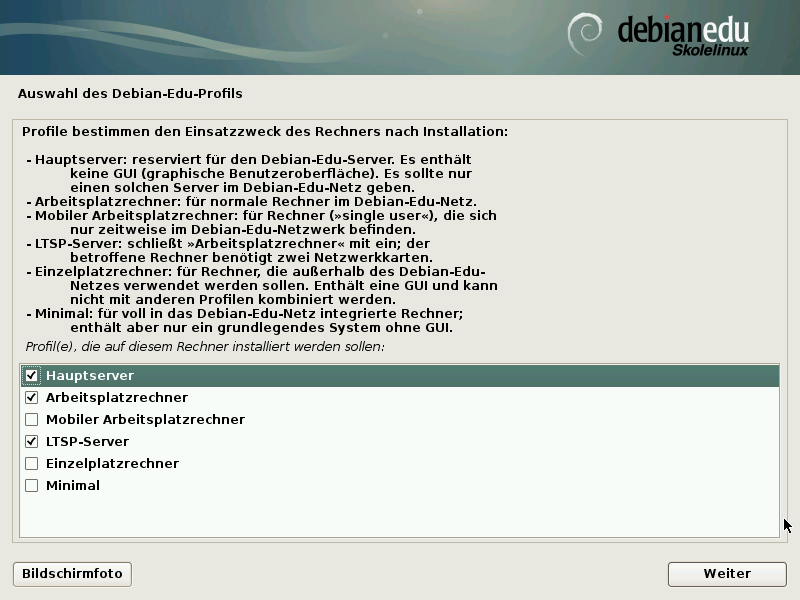 Debian Edu is very flexible in terms of the connected workstations. In addition to mobile computers and workstations, thin clients and diskless clients are also supported. Setup is done either by PXE boot or from the installation CD.
The users and individual computers are managed via a web interface (GOsa²).
Support is provided by the community or professionally by companies.
Pro
very good documentation in several languages
simple installation
no license costs
Central administration of clients possible (with thin client setup)
Contra
if thin clients are used, the requirements for the server are quite high
no school-specific functions such as class work mode or updating user groups at the end of the school year
Other untested Linux school servers
logoDIDACT
logoDIDACT – the school server solution (logoDIDACT) is a server distribution for the operation of information technology infrastructures in schools, especially a pedagogical school network. logoDIDACT was developed by SBE network solutions GmbH from Heilbronn.
logoDIDACT requires at least 8 GB or 16GB RAM. Unfortunately it was not possible for me to install a test installation.
iServ
IServ is a Debian-based, paid school server that allows the creation of a school network including a web portal. The focus of the development is on easy operation and administration.
Unfortunately it was not possible for me to do a test installation without buying a license. The cost for our example school (1000 students) is about 4000€ / year.
Open School Server
The Open School Server (OSS) is a GNU/Linux server distribution developed on the basis of SUSE Linux Enterprise Server 9 (SLES9) for use in educational school networks. It is offered with paid support and further services.
Due to the high system requirements, I was unable to set up a test system.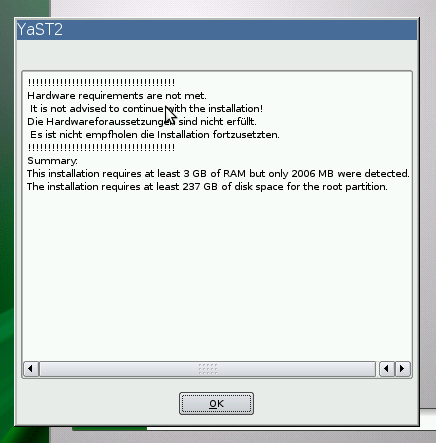 Conclusion
Features
linuxmuster.net
UCS@School
Arktur
Debian Edu / Skolelinux
Documentation
very good (eng about 50%)
very good (ger / eng)
not so good
very good (ger / eng)
Installation Server
einfach
einfach
ok
einfach
Installation Client
sehr einfach
einfach
ok
einfach
User Management
einfach inkl. speziellen
Funktionen zum
Schuljahreswechsel
einfach
aufwendig
aufwendig
exam mode /
Internetfilter /
temporary WiFi-Access
Yes / Yes / Yes
Yes / Yes / ?
No / Yes / No
No / optional / No
Fileserver
Yes
Yes
Yes
Yes
Mailserver
Yes
Yes
Yes
Yes
SAMBA / LDAP
Samba 3 / Yes
Samba 4 / Yes
Samba 3 / Yes
Samba 4 / Yes
Windows / Mac Clients
Yes / partly
Yes / Yes
Yes / partly
Yes / Yes
Extensions
WiFi, Moodle, Monitoring, etc.
Univention App Store (90+)
no
Debian repositories
Client-Management
LINBO (self-healing workstations), opsi
Univention Corporate
Client (Ubuntu), opsi
Yes, own solution
LTSP
License costs
None
290€/1190€/1690€ + 29,90€/Client
+ 1€ / student
everything per year
and withour VAT
None
None
In the meantime, there are some options for using Linux on the school server. The different solutions differ mainly in terms of operation, additional features (especially educational functions, client management) and licensing and support costs. Technically, the solutions usually use the same components (Samba, CUPS, SquidGuard).
We decided to use linuxmuster. net about 1,5 years ago for the following reasons:
The client management with LINBO is simply super and super simple. Quick distribution of images, resetting at any time and everything goes offline.
no license costs. We are a small school and we couldn't have afforded UCS@school for example.
the linuxmuster.net community. I have seldom experienced such a helpful community around the topic of school IT. If there is a problem, it is often solved within a few hours.
Which school server solution do you use and where do you see the biggest advantages and disadvantages?