OpenBoard – App of the Month
In our school we have a few interactive whiteboards, which we would like to use under Ubuntu as well. As software we use OpenBoard. For me OpenBoard is another must-have software for use in schools. OpenBoard can also be used well if you don't have interactive whiteboards.
Installing OpenBoard
You can download and install OpenBoard directly from their website. Unfortunately there is currently only one version for Ubuntu 16.04 and not yet for 18.04. After the download you can install OpenBoard as follows:
$ wget https://github.com/OpenBoard-org/OpenBoard/releases/download/v1.4.1/openboard_ubuntu_16.04_1.4.1_amd64.deb
$ sudo dpkg -i openboard_ubuntu_16.04_1.4.1_amd64.deb
Features
Easy to use
OpenBoard offers a clearly arranged interface in which you can quickly find your way around. At the bottom of the screen you will find the various tools, such as pen, highlighter, laser pointer etc.. At the upper edge you can adjust the color, the line thickness or also advanced settings to the pages and the page background. On the right side you can display the library (images, sounds, videos, …) if needed.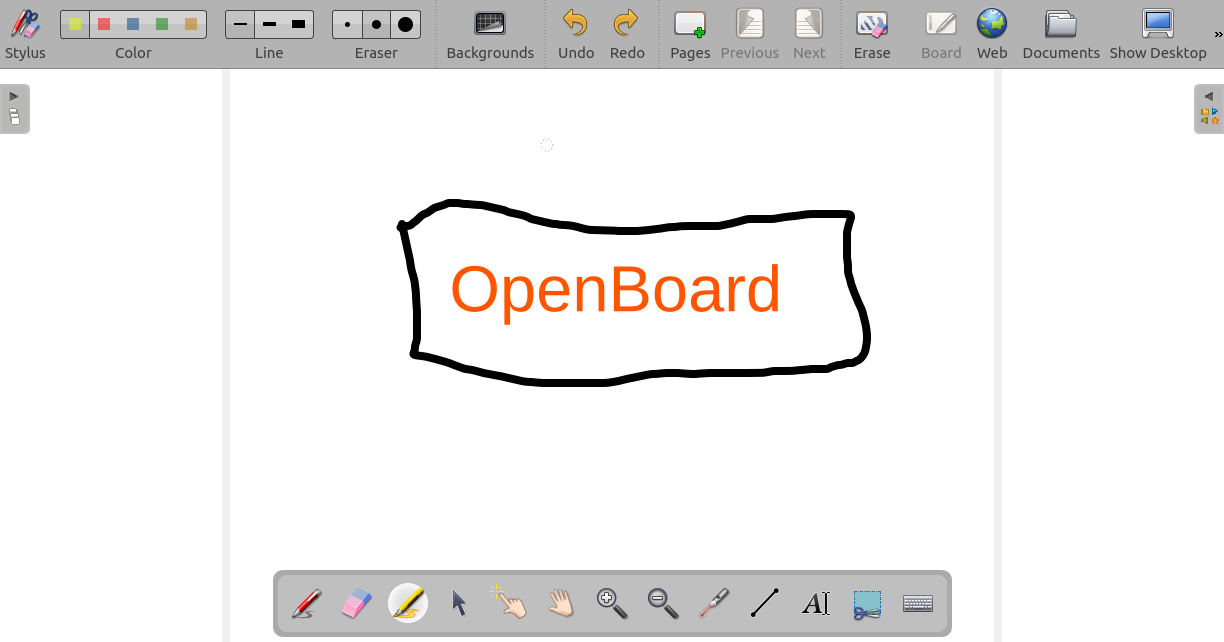 Mini Applications
OpenBoard provides some mini applications, some of which are very useful. There are widgets for clocks, countdowns, OpenStreetMap, Google Maps, calculators, rulers, etc. In addition, there are also small interactive applications such as dices, Magic Box, etc. available. These can be individually configured and integrated into your own lessons.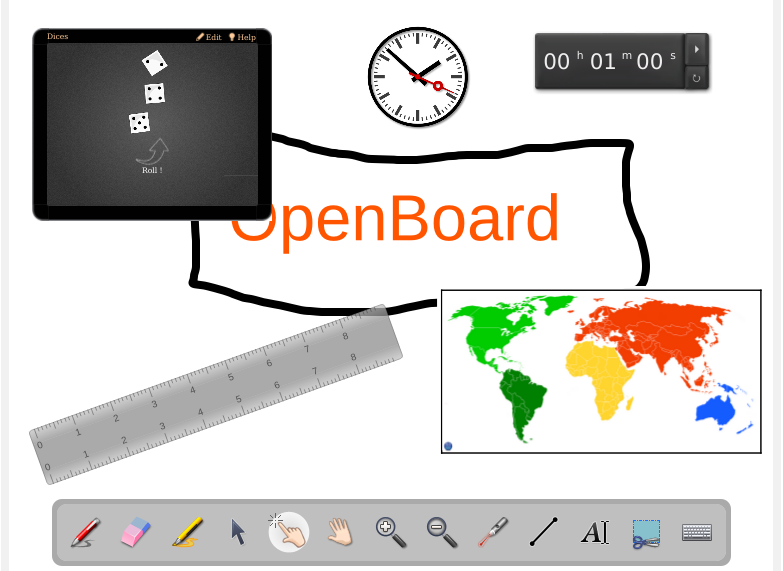 Podcast / Screencast Mode
Since version 1.4 the podcast or screencast mode is also available in the Linux version. This allows you to record your lessons or presentations (with and without sound). If you want, OpenBoard can publish this video directly on Youtube or in your own network / intranet. This feature is certainly interesting, because it offers completely new possibilities to make a lesson or parts of it available to other people.
Further features
Different backgrounds can be set for pages (e.g. boxes or lines)
Videos, audio files can be integrated
Integrated web image search
Document management to organize individual pages and documents
Conclusion
If you have a screen, a projector or even an interactive whiteboard in your classroom, OpenBoard is great software that is easy to use. It offers many extensions and design possibilities, so that there are only few limits to your creativity.
Article Image © openboard.ch